The second phase of our journey took us to see Brother David and his family in the windy island city of Victoria. Ah, Victoria. English style fish 'n' chips, English style gardens, English street names. Unlike England, however, people here love to exercise. Dave's a big cyclist and, like the thousands that whipped by their door each day, has a cute little biking outfit (photo deleted as requested) and piles of Cycling Magazines
on every toilet. (I mention this only to squeeze in an amazon.ca affiliate link for biking supplies – hey, we have to make money on this trip somehow!)
As well as some great time with the family, Sarah and I visited Bouchart Gardens. Wow. Next time you're on the coast be sure to take a day to stroll the gardens, but have a look at our fabulous photos in the meantime.
Buchart Gardens was a 100-year old limestone quarry that the owner's wife decided to beautify once the limestone started to dry up. In the morning the labourers would load and unload the boats and then spend the afternoon working for Mrs. Jennie Bouchart to make her gardening dreams a reality. Hanging on ropes planting ivy was probably not what they had imagined themselves doing, but are we ever grateful they did.
Stop and smell the roses! Literally – you never know which flowers smell the best.
My gran had a room full of geraniums and their smell always takes me back to her sun room – so I smelled (smelt?) every one I walked past. Hers smelt (smelled?) better.
Walking through the rose garden we inspired a lovely elderly lady to bend-and-whiff, much to her son's concern. I'm not sure he thought she'd be able to stand back up. We worry about our elders more than we should, even in Spanish. Over an hour later, we met up again, still smelling flowers so we asked for a photo. Lovely lady, wherever you are, thanks for smiles and Spanish giggles.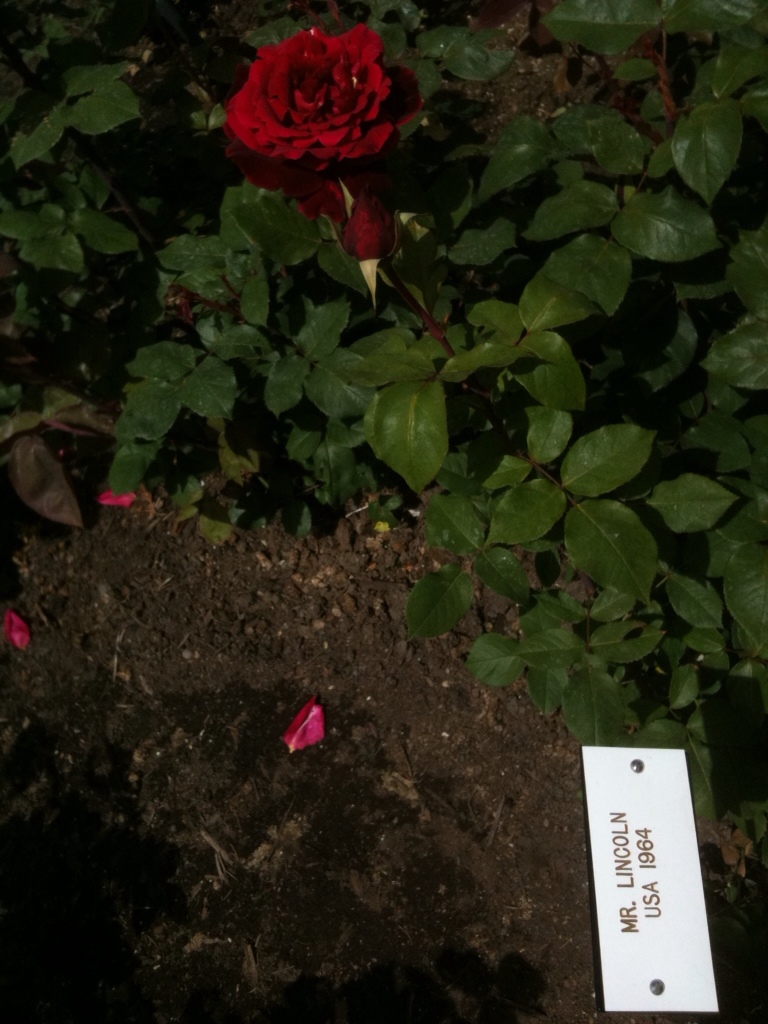 In the end, the "Mr. Lincoln" varietal had the nicest smell. A shout out to Sarah's grandma who knew this – she grew them years ago. It's a small, small flowery world.
Why can't there be an iPhone app that beams us professional quality photos of what we're doing a lousy job of photographing?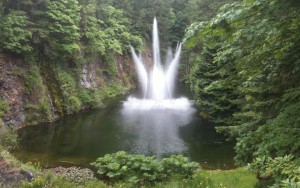 Ah, the fountain. Imagine 76 of us all standing in a row taking the same photo with the same crappy iPhone camera.
Attn. iPhone Developers: Build us an app that uses the gps, compass, accelerometer and image recognition to beam us professional, well lit, correctly aligned photos that replace our crappy ones we took.
What a wonderful day! I recommend the trip. Wander around, sit on the benches, smell the flowers – that is, don't take the kids. Speaking of which, when you're telling your kids to not pull on plants, please remember that strangers are listening. The harshness of your voice gives insight to your character.
Here's all the photos:
Click on any one of them to view a slide show
[AFG_gallery id='2′]