Well, it's 2015. A new year and new opportunities for adventure and fun.
Sarah and I have spent the past 3 weeks near Chiang Mai, in Northern Thailand. We are the proud new owners of a Holiday Ownership package (yes, a bit like a time share) and as part of our (extremely well) negotiated signup bonuses we received 3 free weeks at a rather fabulous resort, the Bella Villa.
This holiday ownership lets us share our wealth of opportunity with friends and family (strangers too for that matter). For those of you reading, if you are planning any vacations in the coming years please reach out to us – we are now able to get killer deals on resorts all over the world – fancy a week in a 3-bedroom Caribbean resort for less than $1000?? No kidding, we can get some amazing deals as "virtual" travel agents!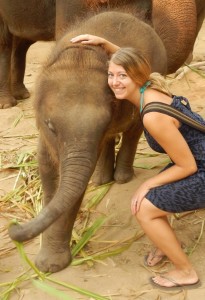 The Bella Villa resort was on the opposite side of a national park from Chiang Mai. We were just down the road from where a local eco-tourist elephant park (an ethical one, we're pleased to say) brings their elephants for their walkies and washies. Just to add to our weeks of free lodging, we happened to stumble upon a family of elephants down by the stream, so we said hello. For free.
Did you know baby elephants knew how to turn taps on? I didn't.
An added bonus of not paying for the elephant encounter was we didn't have to squeeze the poop… the other tourists there were made to. It's how you tell if the elephant is properly hydrated. We took their word for it. I'm not sure how you know which elephant hydrated which pile, but I guess that's why the experts are paid the big Bhats.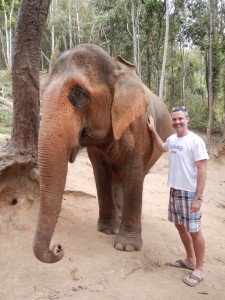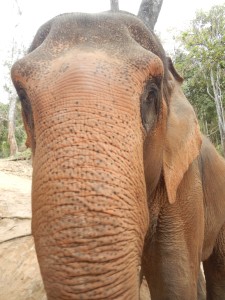 Our Christmas Day was spent on the train traveling up to Chiang Mai, so we made up for a lost Christmas Day with an over night trip into the city for New Year's Eve. It's always a wonderful treat to spend moments like New Years in "strange" places – you never know what you'll get up to or what you'll see. Here are some highlights: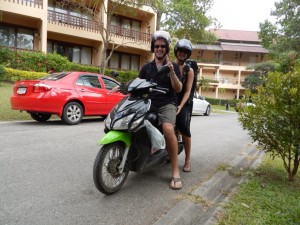 The next day(ish) we jumped on a scooter and attempted to follow Google Map's directions through the back roads of the local National park. We didn't get very far, but we saw some beautiful stuff.
We also used our time in Chiang Mai to catch up on work (sorry, not much blogging) during which time I officially launched the website, facebook page and twitter account for my next project – "I'm No Expert". Part of this trip was for both of us to re-examine our priorities, passions, and plans for the next few years. I'm pleased to say that my priorities are helping people collaborate to make their lives more enjoyable, my passion is to promote world peace, and my project is to, somehow, make a living from promoting both.
And so here we are, January 12th. Where have the 3 weeks gone!?
We now find ourselves back on a train – this time in our first first-class private bunk cabin on an overnight train to Bangkok. This is the first time we've had a train-room to ourselves – here's the photos of the room transformation:
Tomorrow we spend the day in Bangkok, and on the 14th we fly to Vietnam, the next leg of this unbelievable journey!
Stay tuned, and Happy New Year.